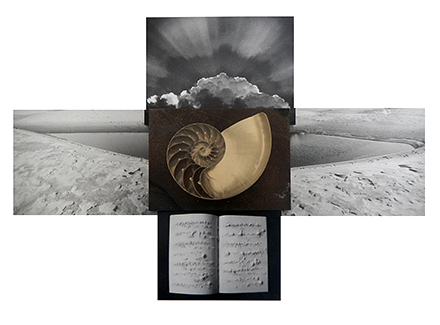 Melanie Walker, Nautilus,
2012, digital transfer onto metal, 18" x 24"
Please contact the gallery for information about all works available. Mention this deal to receive your discount.
Melanie Walker's photography facilitates a visual dialogue with her father. In "Wanderlust," Melanie combines images from a decade of travels to investigate experiences of time, place and memory. In creating this series, she was influenced by her father's writing: "I remember a time, I remember a place, I try to return, It is not here. / The time was here, the place was then. I am now, not then. / Place, time and I happened together, but not again."
Melanie Walker is an Associate Professor, Interdisciplinary Media Art Practices, Photography at the University of Colorado, Boulder. She holds a B.A. from San Francisco State University and an M.F.A. from Florida State University. Her work is in the permanent collections of museums across the country, including the Los Angeles County Museum of Art, the Smithsonian American Art Museum, and the Center for Creative Photography, Tucson, Arizona. Her work has appeared in numerous solo and group exhibitions.
2525 michigan avenue, Suite J1
santa monica, california 90404
310.315.3551
For directions to our gallery, please click
here
dnj Gallery is now on
Artnet
, so be sure to check us out.