Blinded by Science: Alaska/California Collection
April 12, 2014 at 2pm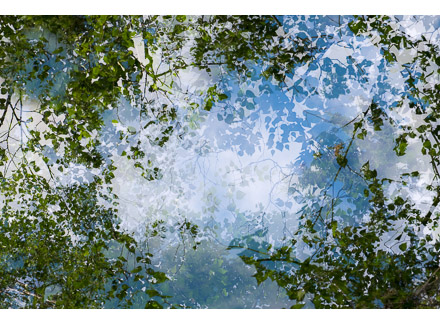 Dan Shepherd, Alaska Trees #5,
2013, Archival Pigment Print on Hahnemühle fine art parchment paper
with a hand torn deckle edge, 12" x 18", 24" x 36", or 36" x 54"
dnj Gallery is pleased to host an artist talk by
Dan Shepherd
for his current exhibition, "Blinded by Science: Alaska/California Collection". This exhibition features photographs that explore the interplay between science and art. Come and listen to Dan Shepherd explain how he used his expert knowledge as a starting point for his work that includes not just scientific analysis but also a very personal perspective on the natural world.
Dan Shepherd develops a layered, formal view of our environment by focusing on colors, shapes, and textures. As he explains, he seeks to "use the power of abstraction to filter out the science details in his head" so that he can focus on the purely visual elegance of nature and create almost portrait-like images of trees, plants and landscapes. In this exhibition, he expands his breadth by photographing the characteristics of our landscape at two of his favorite botanical locations, Alaska and California. With an M.A. in Environmental Science from Columbia University and an International Diploma in Plant Conservation from the Royal Botanic Gardens, Kew, England, Shepherd uses his expert knowledge of plants to capture their most interesting and graphic features. Shepherd's series is fundamentally about his return to seeing, rather than scientifically analyzing, the natural world.
For his latest collections, Dan has traveled to the great forests of Alaska and open landscapes of California, and the new images reflect this evolution of his photographic vision. He continues to use the power of abstraction to filter out the science details in his head that lets him focus on the pure beauty of nature and create unique portraits of the trees, plants and landscapes.
Dan Shepherd currently works as both a visual artist and as a conservation professional for organizations in Los Angeles. His photographs have been exhibited in various locations throughout the country, and have been featured in several recent publications, including "The Orion Magazine," "The F-Stop Magazine -Abstraction" and "Lenscratch." This is Shepherd's second solo exhibition at dnj Gallery.
2525 michigan avenue, suite J1
santa monica, california 90404
310.315.3551
For directions to our gallery, please click
here
dnj Gallery is now on
Artnet
, so be sure to check us out!