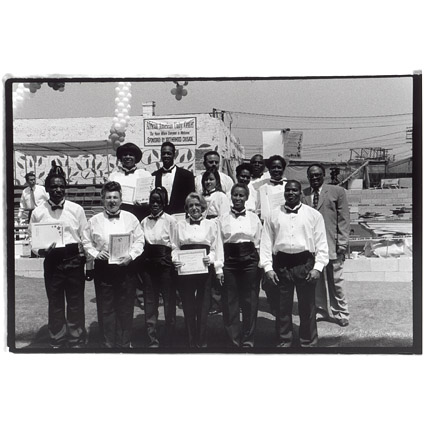 Pamela Mayers-Schoenberg, Untitled,
1998, Silver Gelatin Print, 8" x 10"
Vermont Avenue runs for thirty miles through Los Angeles, from Griffith Park, through Los Feliz, Hollywood, Koreatown, and South Central, to the harbor. It serves by the Observatory, the Greek Theater, Los Angeles City College, USC, and the Coliseum, but I preferred to focus on the smaller entities of the street: homes, shops, schools, clubs, parks, and markets, and the people.
It is one, single community, made up of independent, yet interconnecting parts. Los Angeles is, and has always been, a great melting-pot. Through my images, I want to build a collective vision and create an interaction among the various neighborhoods.
These photographs will not be for sale.
2525 michigan avenue, suite J1
santa monica, california 90404
310.315.3551
For directions to our gallery, please click
here
dnj Gallery is now on
Artnet
, so be sure to check us out!